HOME | TAMPA DIVORCE LAWYER BLOG | SCHEDULE AN APPOINTMENT


Child Support Lawyer Tampa, Florida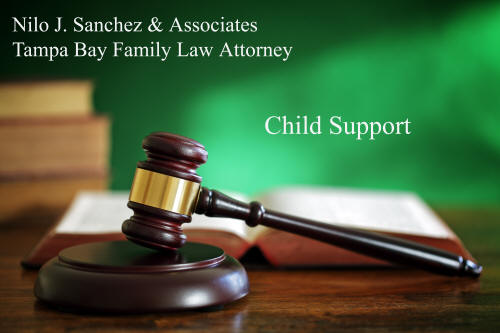 Set, Amend, Enforce Florida Child Support Orders in Tampa, South Tampa, Carrollwood, Brandon, Lutz, Land O' Lakes, Florida

Child support lawyer Nilo J. Sanchez, Jr. located in Tampa, Florida represents clients who need legal assistance setting child support or establishing child support. We understand how important your child support is and if you have not been receiving your court ordered support, we can file the proper motions with the courts for the enforcement of child support. If you have a current order for child support and believe that you have had a substantial and permanent change in circumstances including any time-sharing issues that may have an affect on your child support obligation or your ability to pay, please contact our office to discuss your options and to obtain help with modifying your current Florida child support order. Remember, it's generally in your best interest to ask the courts for a modification of child support rather than to simply fall behind on your child support payments. Child support is crucial to the financial security of your children and Florida Law requires that both parents pay according to the support guidelines.

Florida Child Support Guidelines
Child Support in Florida is governed under Florida Statute 61.30. In determining child support, the court looks to many factors including, but not limited to each parties' net income and the time-sharing schedule of the child between the parties. Under Florida law, both parents are required to contribute towards the support of their children. You should make sure you consult with an experienced Tampa family law attorney to fully comprehend all aspects of child support as it relates to your child support case.

Tampa Bay Child Support Modification Attorney
Tampa Child Support Lawyer Nilo Sanchez is able to assist clients in obtaining the child support amounts they are entitled to under Florida law, either through negotiations or in a contested court hearing. Nilo Sanchez assists his clients in obtaining court-approved child support modifications when their economic circumstances substantially change since the entry of the Final Judgment. When a parent's economic situations change substantially, it may be possible for that parent to modify their child support by filing a Supplemental Petition for Modification. Additionally, substantial changes to a parent's time-share schedule may also warrant and justify a modification of child support. Attorney Sanchez represents clients who need to modify their child support in the following jurisdictions; Tampa/Hillsborough County, Pasco County, Florida and Pinellas County, Florida.

The court reserves jurisdiction (authority) to enforce child support. By filing a Motion for an Order of Contempt and/or Motion for Order of Enforcement. Tampa child Support Lawyer Nilo Sanchez is able to seek for his clients court enforcement of the ordered Florida child support obligation by requesting the court to impose punitive measures against the non-paying parent. The punitive measures could include but are not limited to an order remanding the non-paying parent to a sentence of incarceration and could also include an award of attorney's fees and costs against the non-paying parent. We know how important it is to receive your court ordered child support. Although you can utilize the assistance of Florida Child Support Enforcement, it can take time. Contact our family law firm to discuss your case and our attorney fees for representing you in a Florida child support enforcement case.


Have You Been Served With a Child Support Enforcement Order in Tampa, Brandon, Land O' Lakes or Clearwater, FL?
If you have been served with a child support enforcement order it is in your best interest to contact a child support attorney as soon as possible. Ignoring enforcement orders could have serious legal ramifications. For further information from an experienced Tampa Child Support Lawyer, please call 813-879-4600 to discuss your case.
Read More About: