HOME | TAMPA DIVORCE LAWYER BLOG | SCHEDULE AN APPOINTMENT


Child Custody Attorney,Tampa, Florida
AVVO Top Rated Divorce & Custody Lawyer, Tampa, FL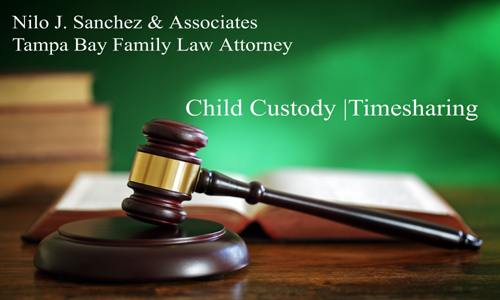 Emergency Motions for Child Custody Hillsborough, Pinellas & Pasco County, FL
In Florida, some of the reasons to seek an emergency child custody motion are as follows:

Evidence of child abandonment
Evidence of abuse or threats of abuse
Substance abuse or other derogatory behavior that may put the children in danger.

Other reasons may also be considered and reasons for child custody emergency motions are not limited to those stated above. If you are concerned that your children or child is in danger, do not take matters into your own hands. Law enforcement is available to you as your first defense if your child shows signs of abuse. If there are clear signs of abuse and you've made a police report, you can also opt to file for a restraining order. However, restraining orders are not the same as emergency motions to modify custody. This is best dealt with by speaking with an experienced child custody attorney. Attorney Sanchez represents clients who need to file emergency motions in child custody hearings, as well as other high conflict child custody matters in Tampa, Brandon, Valrico and throughout Hillsborough, Pinellas and Pasco County, Florida.


What Happens at an Emergency Child Custody Hearing


An emergency hearing for temporary relief as it applies to a child custody matter, serves to give immediate relief to solve a custody problem. The judge will hear matters pertaining to the alleged problems such as abuse, neglect, drug abuse or other issue that may be endangering the children or child. Your attorney will provide evidence to support the problem such as police reports, photographs, restraining orders, CPS reports or testimony of witnesses. Medical records, school records or other information may be presented or requested by the courts. It is difficult to foresee an outcome with an emergency motion and it depends much on what you are asking of the courts. If you are asking to suspend time-sharing or overnight visits, asking for supervised visits, counseling, anger management or other relief, it should be shown that it is in best interest of the children to do so.
What Type of Decisions or Rulings Can the Judge Make in an Emergency Custody Motion
Once your attorney has presented the evidence to the courts they can do all or some or none of the following which should focus on the best interest of the children:
Order temporary relief pending a full trial and order any of the following:
Suspension of overnight visits
Supervised visitation
Transfer of custody to another family member or parent
Order parenting classes
Order anger management if abuse is present
Order any other relief under the law that seeks the best interest of the child
Child Custody Trial & Emergency Motions
After the temporary relief is ordered by the courts, as stated above, the courts may have ordered a full trial to follow. If this is the case, Attorney Sanchez will present facts to the judge that will support the current situation. If, for instance, the child's parent was using drugs or alcohol they may have had a long history as a substance abuser. However, since the trial follows an emergency motion, treatment or counseling can be favorable in a custody trial. Again, each case is unique so it is best to consult with Attorney Sanchez & Associates to discuss your options if a modification of child custody or time-sharing trial hearing was ordered.
Will a Parent Lose Custody?
Each child custody case is unique. The courts in Tampa Bay generally shy away from taking custody away from a parent. Florida believes that it is in the best interest of the child to have a relationship with both parents. Sadly, however, there are times when it is not in the child's best interest. Child custody attorney Nilo J Sanchez's goal is to present those facts to the courts in an effort to keep the children safe and to provide you and the children with temporary relief in this matter.
Nilo Sanchez & Associates is a compassionate yet aggressive child custody and divorce lawyer in Tampa who you can depend upon for all of your family law needs. Please call our office for a consultation at (813) 879 4600. For additional information about hiring a child custody lawyer in Tampa, please visit our contact us page.